eHUB.cz - Promotion Guide
Get to know the basic functioning of the eHUB.cz affiliate network. Go through the individual steps on how to promote properly.
How to start
If you want to promote via eHUB.cz, register here first.
Let's get into it
At first we need to know your:
first name
last name
email
phone number
In addition, you can directly mention your website or company. The next window is for everything that did not fit into the form, but you want to tell us about it.
Did you not receive a confirmation email?
After registration, you will receive an email confirming your account has been created. If it hasn't arrived, please wait, emails are sent automatically but may be delayed for a few minutes. If you don't see the email, don't forget to check your SPAM folder as well.
If you still haven't received your email and you're sure you've entered your email address correctly, we recommend using a password reset tool. You can't find it at: https://pm.ehub.cz/user/reset-password

Enter the email under which you registered in the system. We will send you instructions for resetting your password by email. Alternatively, contact us through [email protected].
First steps
After signing in ( sign in here ), you will find yourself on the main board (Dashboard). The dashboard is empty now because you don't have any commissions yet. In the upper right corner you can see your name, after hovering over it you can get to your profile. Fill in your contact information carefully there.
Why do we want to know your phone number? We need the phone for an easier communication. If something needs to be agreed upon, it is much easier over the phone. Because we have your phone number, we can always call you, you never have to call us.
In addition to the basic information provided during registration, you should also enter billing and payment information in order to pay commissions. When requesting a pay-out, you will upload an invoice on behalf of your company or yourself (incl. your IN).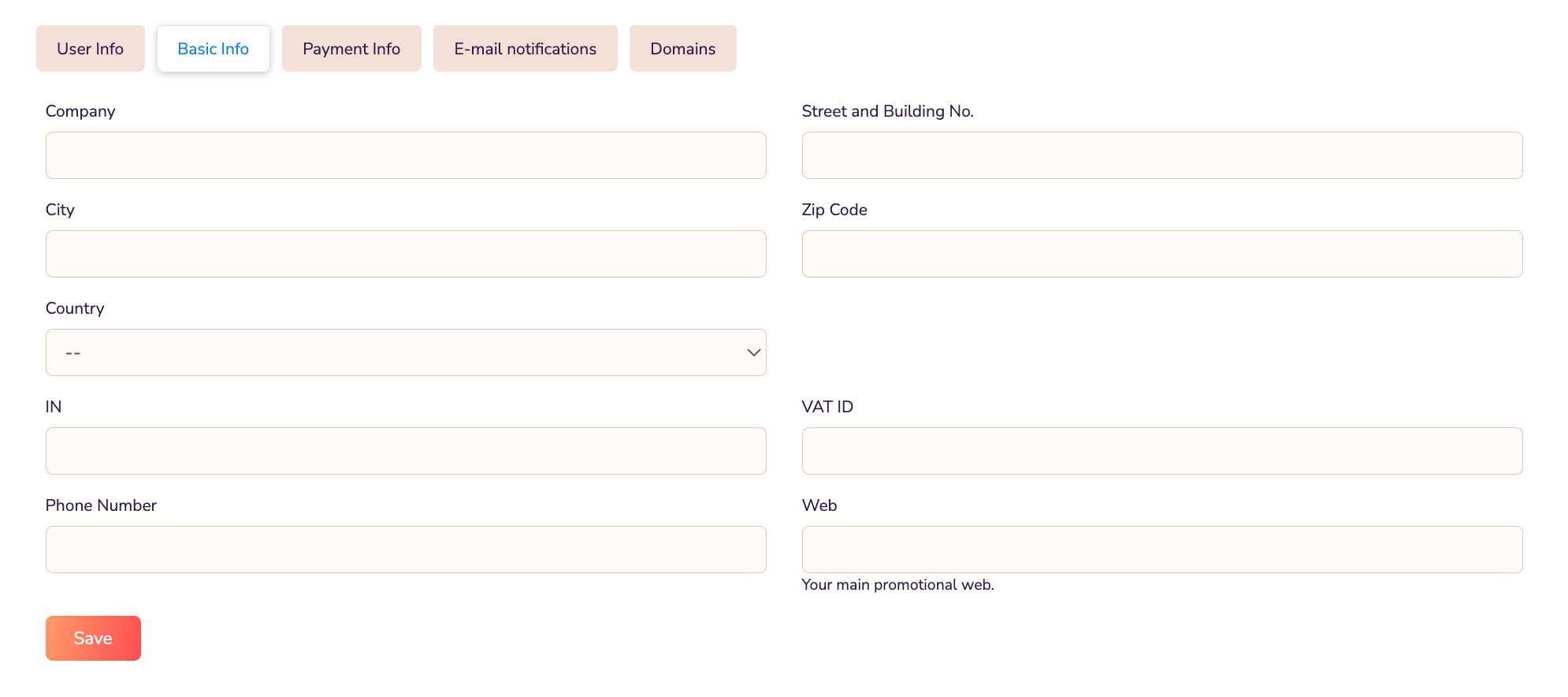 Do you want to work with us as a natural person without a business license?
We also work with non-entrepreneurs. This and other forms of cooperation are described in the chapter Payouts.
Email notifications
In your profile, you also have the option of setting whether you want to subscribe to newsletters, be alerted to the creation of a transaction and receive regular reporting. More detailed preferences can also be set for the newsletter, thanks to which you will receive exactly the information you need, namely:
Network News & Campaigns
Educational
Network Performance & Data
We definitely recommend subscribing to at least Network News & Campaigns. Thanks to this, you will learn about new interesting advertisers, promotion campaigns that are worth it, discount coupons and other hot news and improvements that we have negotiated for you at eHUB.cz.
In the Educational category, we send tips for marketing articles. So this information is ideal for anyone who wants to educate themselves and through better education also get higher commission earnings.
Emails from the Network Performance & Data category help you better analyze your work. It will teach you how to process the data that eHUB.cz provides you to use and plan your own strategies.

Edit Profile
In the section of your profile, you can also make changes:
Password change - old and new password must be entered
Change email - you will need to confirm the new email
Change of payment details
If the change is made, you will temporarily see a notification of the change made in the upper right corner of the page.
We strongly request you to check the entered data carefully. Both contact email and payment details are very important.
Important contacts
If you change your email or phone number, don't forget to edit this information in your profile on eHUB.cz. We need to contact you for information about new campaigns, commission payouts and for more individual communication.
Website specified during registration
It is not mandatory to enter a website during registration, but we strongly recommend it. The website can be later changed in your profile if you need to. If you have a quality website, be sure to show it off, you will have a higher chance of approval for programs that are not public.
Nastavení
V administraci ve statistikách zobrazujeme základní data. Pokud chcete změnit přehled zobrazených dat – je možné kliknout na tlačítko "ozubeného kolečka". Pak můžete vyfiltrovat více (či méně sloupců). Vybírat můžete po jednotlivých položkách, nebo je možné vybrat všechny sloupce či jen základní. 
Vedle tlačítka nastavení, je k dispozici také tlačítko Exportovat, které zajistí export zobrazených dat ve formátu .csv.
Choosing program
After signing into your account, open the tab Programs. This is key for you, it is here that you apply for participation in individual programs and choose who you will promote.
Basic information you need to know
What are cookies?
Small files that a website stores in your browser. So if a user goes to the e-shop via your link, the e-shop will store cookies in his browser with the information that he came from you. If you place an order, the commission will be allocated to you thanks to cookies. However, cookies only remain in the browser for a certain time, typically 30 days. After this time, they will be deleted and you will no longer receive commission.
How is the commission calculated and what are the types of commissions?
Provize mohou být fixní, nebo jde o určité procento z objednávky. U každé kampaně vidíte podrobnější informace, typicky se procentuální částka počítá z ceny bez DPH a poštovného.
The reward does not have to be only for the brought order from the e-shop (we refer to it as a sale). It can also be another predefined action, for example leaving a contact (mostly e-mail and phone) - we refer to it as a lead.
What are the advertiser categories?
You can search for programs by name, commission type (fixed/percent of order), status (your approved programs, declined, pending approval, etc.) or category. It works better when you promote products and services related to the topic of your website. Thanks to this filter, you can easily find such programs.
Public affiliate program catalog
The catalog of affiliate programs is publicly accessible, you can find it at this address. You will also see the same programs after signing in on the Programs tab. You can respond to them there.
Public programs v. Waiting for approval
Status can be seen in the last column of the program overview. Some programs are automatically Approved, these are public programs that you can join without restrictions. For others, you see Ask for approval. In this case, you have to ask and the advertiser will decide for themselves if they are interested in you promoting them. It is decided, among other things, according to the quality of the website, so it is important to have it listed in the profile. Other criteria include, for example, relevance, advertisers tend to choose websites for promotion that are related to the services or products it offers. Sometimes they may not accept you just because they are currently full and don't need more partners.
So don't worry about your failures and try to join another program. We have a really rich selection, in various fields.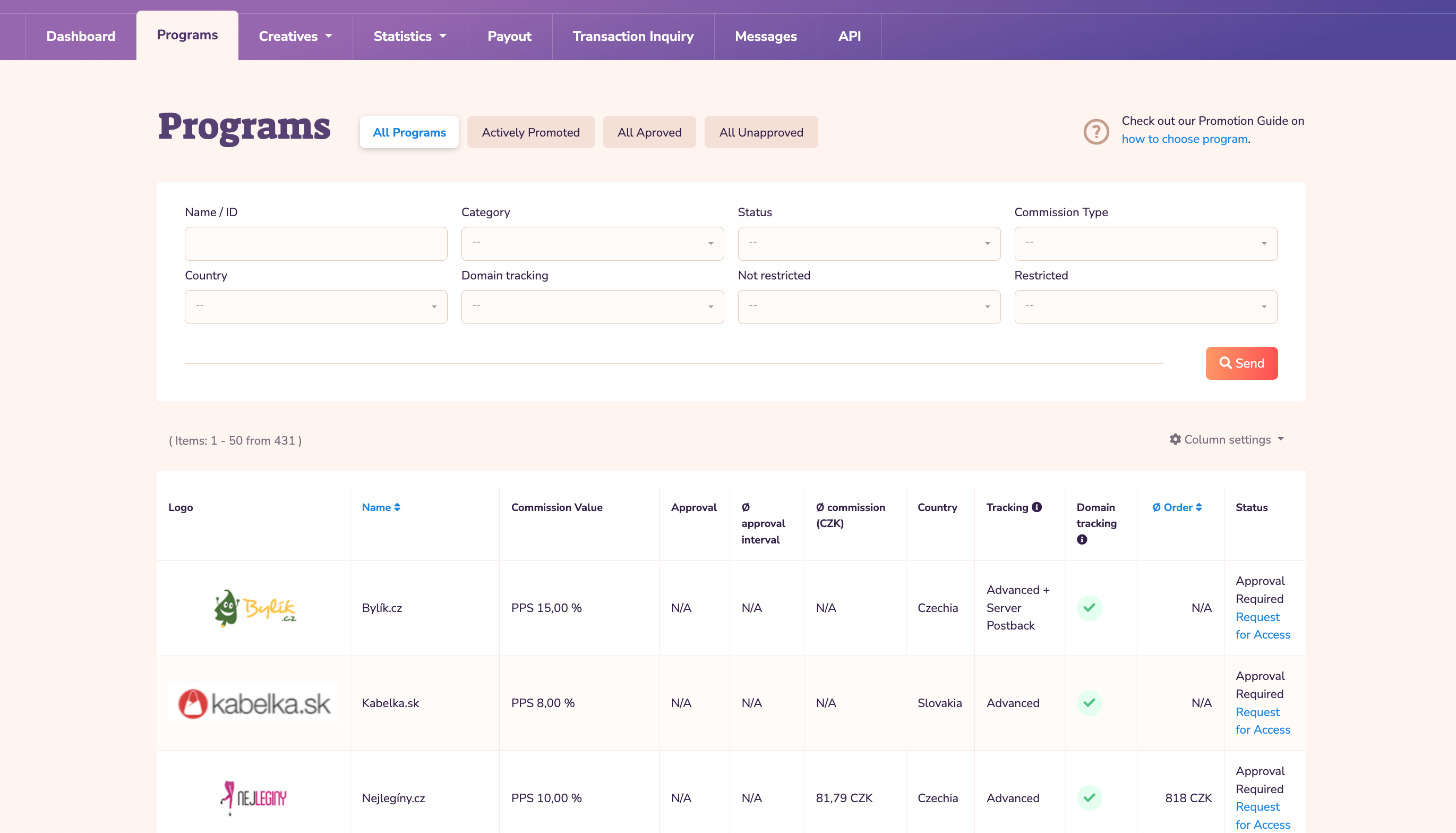 Program terms & limitations
When you click on the selected program, you will read basic information, download materials, coupons, and also learn the terms of the program. Important information in the conditions:
commission amount
cookie lifetime (how long the e-shop will remember that the client came from your link)
Approval interval

Approving & statistics
We are also presenting approval data, i.e. what is the maximum deadline for approving transactions, the average approval time, and the approval rate.
We also present the average order value, average commission and conversion rate.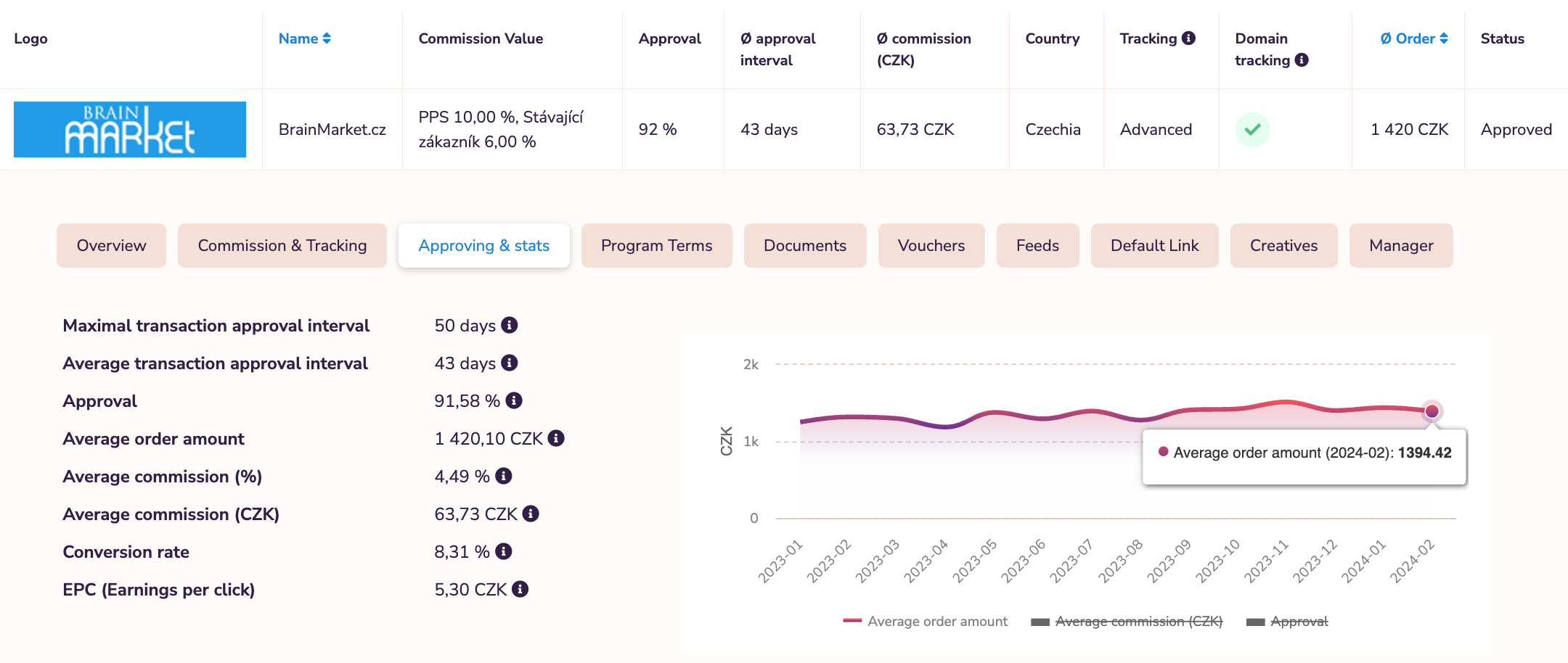 Promotion restrictions
In this section, we list what is prohibited (often, for example, deceptive advertising is listed).
Violation of the set rules can lead to the termination of cooperation, so it is advisable to always read them carefully whenever you start cooperation with a new advertiser. Don't count on it having no special requirements. Maybe this particular advertiser has some atypical ones.
Data interesting for content creators
How should you choose suitable programs?
Consider the field you are in. Find an e-shop whose products you really identify with, they will be easier and more natural for you to promote.
For most partners, the amount of the commission is understandably important. However, it should not be the only criterion, because many times you will be able to earn more on a campaign with lower commissions. The marketing world is incredibly interesting.
If you have any further questions, there is one contact manager for each program. It's always a person directly from eHUB.cz who takes care of the given program, so he/she will definitely be able to give you good advice.
You can find the contact in the details of the program in the Manager section.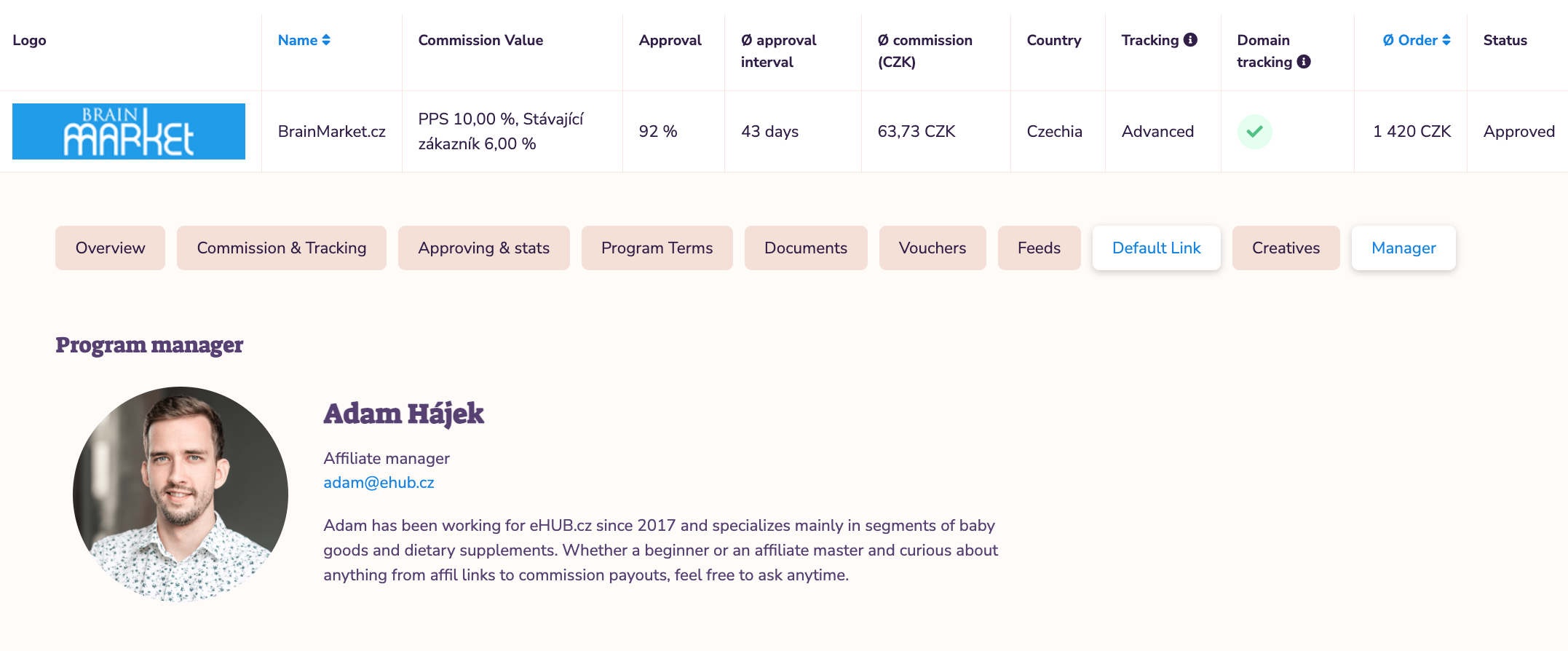 Creatives
Links
Links are the alpha and omega of your promotion. You can find the basic affiliate link for promotion in the Default link section. Its form looks like this:
https://ehub.cz/system/scripts/click.php?ga_aid=412289c2&a_bid=0002258B
Parameter a_aid is partner's ID, i.e. yours, and  a_bid is the ID of the creative in that program. The values of these mandatory parameters are unique, both for each partner and for each advertising element, and our system adds them automatically. You can find your partner ID in your personal profile to check.
Remember that any link in our network always works by redirecting the visitor via the eHUB.cz domain to the advertiser's website. To check that such a link is working correctly, it is sufficient to insert the link into the browser and reach the advertiser's website. Subsequently in Click statistics you will find the relevant click for the given program.
It is very important that the link is set correctly. If you don't find the check click in the statistics, it is possible that the link is not correct. There was no correct redirect and the click was recorded in the so-called Invalid clicks (more in Invalid Clicks chapter).
1. Link Generator
Does it work? Well, we are glad! But it doesn't end there. In our promotion, you don't have to limit yourself to Default links only. It is therefore ready for you in the platform in the Creatives tab Link generator.
Where you can generate multiple links for different advertisers in one place. If you select only a program to promote in the generator and click the generate button, you will get a basic affiliate link: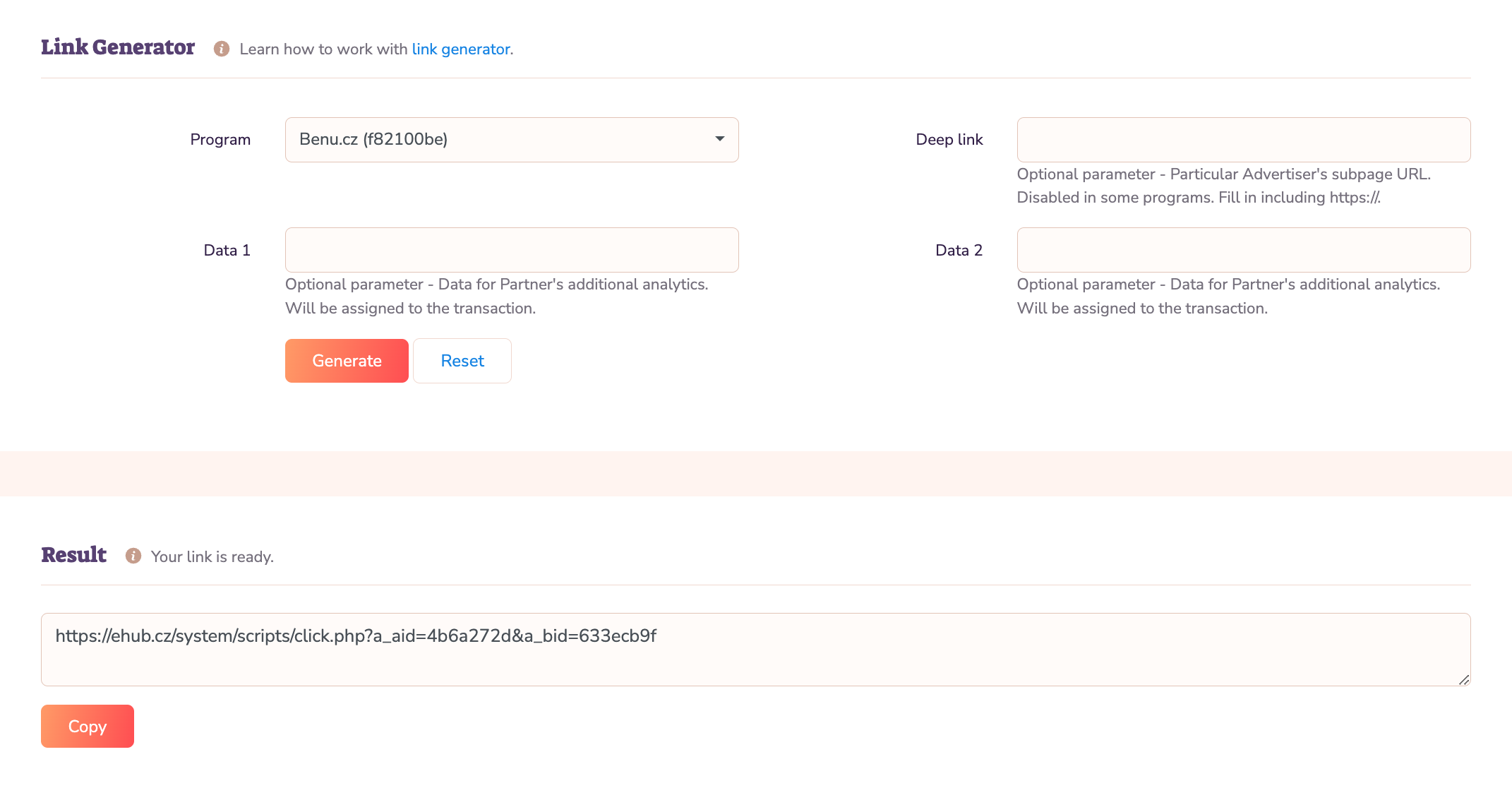 2. Link using optional parameters
You can use the optional data1 and data2 parameters for your better analytics. Just add one or two optional parameters to the link. How to do it?
In the generator, you first select a program to promote
Fill in the fields Data 1 (e.g. web1) and Data 2 (e.g. CTA1)
Click the Generate button
The link is extended by the data1 and data2 parameters
The affiliate link created below will be in the following form:
https://ehub.cz/system/scripts/click.php?a_aid=4b6a272d&a_bid=633ecb9f&data1=web1&data2=CTA1
We then pass the parameters data1 and data2 to both click statistics and sales. This will help you identify the creatives that visitors click on and purchase through.

3. A link to a specific subpage - Deep link
As you have already noticed, with the optional Deep link parameter in the link generator, you can create links pointing to specific subpages (e.g. selected product categories). The procedure is identical.
In the generator, you first select a program to promote
In the Deep link box, you enter the full URL of the specific subpage to which you want to link (e.g. https://www.benu.cz/vitaminovy_rok)
Click the Generate button
The link is extended with the desturl parameter
Below you can see an affiliate link to a specific subpage or Deep link:  
https://ehub.cz/system/scripts/click.php?a_aid=4b6a272d&a_bid=633ecb9f&desturl=https%3A%2F%2Fwww.benu.cz%2Fvitaminovy_rok
Here is a link using optional parameters and a Deep link
https://ehub.cz/system/scripts/click.php?a_aid=4b6a272d&a_bid=633ecb9f&data1=web1&data2=CTA1&desturl=https%3A%2F%2Fwww.benu.cz%2Fvitaminovy_rok
In this way, you can easily create specific links according to your wishes and be sure that everything works as it should.
Banners & other creatives
In addition to links, you can also promote e-shops in the form of banners and other creatives. You can find them in the Cretives tab of a specific program. Attractive banners are prepared for many programs, the use of which is absolutely simple. You can directly see the code that you just need to paste into your website. The code already contains your affiliate ID, so you don't need to do anything else. Banners are available in different sizes, landscape, portrait or square. Don't forget to select them according to where they lead - to the main page, to a specific category, etc. We display all this information clearly.

XML Feed
XML Feed is a file that contains information about the products of the given e-shop. It usually contains the product ID and name, price, URL, and image URL, but other information may also appear.
1. Specification
Working with XML Feeds is intended for more technically skilled users. The XML Feed can be used to create a catalog on your website, thus linking readers directly to specific products. For easier work with feeds, we have prepared the so-called eHUB format. XML feeds marked in this way already contain your unique ID, so you do not need to add anything, it is a final link. For other feeds, it is necessary to add a partner link of the deep link type to the url of the products - more in the chapter link generation.
2. eHUB Feed
XML Feed can be selected by type. We try to offer a large part of the feeds in our special standardized eHUB format, which has a big advantage for you - it is consistent. You always know what you are working with, exactly what the data looks like. We like to develop our own solutions, because we are then able to tailor them directly to clients and perfectly fulfill their needs.
3. Tagging
From mid-2020 we also offer tagged XML feeds. Using labels, we make it easy for you to classify a product in a specific category on your website, completely automatically and without work. Learn more here from our blog post.
4. Customized XML feed
Are you interested in an XML feed of a product of a specific brand? Given categories? Any combination? Nothing is a problem. With eHUB feeds all this can be done, it is even possible to combine multiple XML feeds together.
We cover the issue of the feed in detail in a separate article Working with XML feeds.
Form Generator
In the system, you can generate a form for a given program, specify data for additional analytics and a URL to which the user will be redirected as soon as the form is submitted.
We try to provide you with as many promotion options as possible so that you don't have to create anything yourself. All you have to do is take the code generated by us and insert it into your website. From the technical solution we are here, your goal is only to bring clients and thus earn a commission.
Voucher codes & deals
Czechs hear for discounts, which is why they are a great opportunity for you as our partners. We have a special category for them in the menu (Creatives -> Vouchers ). For easier processing, we offer the option of exporting discount coupons to JSON format (via a link to the eHUB API) or CSV.
This feature is described in more detail in the article Automated export of discount coupons and deals.
Restricted key words
You will certainly want to promote your website so that it reaches as many people as possible and you earn the highest possible commission. In that case, beware of banned keywords that you must not use. You can find them in the menu in the Creatives tab under the link Restricted key words, they are listed for each e-shop that has its own program with us. Usually these are e-shop names and variations of the name, but you better check it out.
Statistics
Another key thing for our partners is statistics. Everyone wants to see how they are doing. However, for this, it is necessary not only to monitor the results, but also to be able to correctly interpret and use them. We know all this, that's why we try to make it as easy as possible for you to display the data. All information about received transactions and clicks can be filtered according to various criteria.
Export to .csv format is a matter of course. We understand that the web interface is good for keeping some basic overview, but for detailed data processing it is necessary to download and display it in the corresponding program. For .csv files you can use excel which can do some magic with data.
Clicks
We display all clicks associated with your account. You can filter them by program, title, type (unique/repeated) or date and time. We display the direct date and time of the click, the IP address and also the URL of the referrer. So you can easily find out where your highest income comes from.
ID – is a unique click identifier
Program name - program that you brought a click through
Creative name – each link registers not only the partner, but also the ID of the creative. So you can see which creatives bring clicks.
Date & time – when the click through occurred.
IP address – the IP address from which the click occurred.
Data1 & Data2 – are optional parameters. If you define them when creating a link, we then display them here.
Referrer URL – the url from which the click occurred.
Typy – whether it is a unique or repeated click.

Marketplace
In cases where the advertiser is a marketplace (aggregator), the affiliate commission is not paid for final sales on individual e-shops, but for outgoing clicks from the marketplace to these e-shops. In this table you can see all recorded outgoing clicks, from which the commission flows. We update this data once per hour. Subsequently, once every 24 hours we will create an aggregated Transaction from them.
Transactions
In the menu Transactions you will find the most important thing, how much money from commissions went to your account. Again, it is possible to filter the data according to various criteria. You should be primarily interested in the status - i.e. whether the amount has already been approved and credited permanently, or only pre-approved. In this case, your money is not yet secure. This could be, for example, because the 14-day return period is still running and it is not known whether the customer will return it.
ID – is a unique identifier of a transaction in our network.
Date & time – when the transaction was recorded
Program – the campaign you brought the order to.
Creative – by which creative the order was brought.
Referrer URL – the URL from which the order was made. The URL is also available to the advertiser.
Click Date & time – when the click that resulted in the order occurred.
Click Data1 a Click Data2 – are optional parameters. If you define them when creating a link, we then display them here.
Order ID – The transaction ID that the advertiser gives us. Most of the time, the transaction ID matches the order ID that the end customer receives.
Order Amount – recorded order value (in CZK). A commission is calculated from this amount. Mostly it is an amount without VAT and shipping.
Original order value – if the order value is modified during approval, we include the original recorded value here.
Commission – your reward for bringing an order.
Type – we distinguish whether it is a sale (PPS) or a lead (PPL).
Voucher – we display the coupon used in the order. Provided that the advertiser forwards this data to us.
New customer – if the advertiser makes a distinction between new and returning customers for orders, we will inform you about it here.
IP address (click) - the IP address from which the click occurred.
IP address (transaction) - the IP address from which the transaction occurred.
Number of clicks – the number of clicks leading to an order.
Status – the status of the order. We distinguish several states:

Pending – the order has not yet been approved.
Pre-Approved – the advertiser has already approved the transaction, no billing has been done yet.
Approved – the order is approved and invoiced - you can request payout.
Declined – the advertiser declined the order. (The order was cancelled, returned, etc..)

Payout – we also distinguish several statuses in the payout status. Pending - the order has not yet been approved, it cannot be paid out. Allowed - the order is approved and it is possible to request payment. Applied - you have already requested a commission payment here. Paid - the order has already been paid.

Invalid clicks
We separately detect invalid clicks, i.e. those that did not redirect to the e-shop website. Maybe you used the wrong link, maybe it's an unknown program, an inactive entity, etc. What are the most common reasons for a invalid click-through?
missing parameters – You must always copy the entire affiliate link for promotion, including the a_aid and a_bid parameters.
inactive entity - You are using links from an affiliate program that is no longer active, so no redirection will occur.
entity not found – The link is incorrect, or there is an error in the ID, no entity can be found under the given ID. You probably made a typo.
unapproved publisher - You are using a link from a program that has not been approved for you. Most often, this happens when the cooperation is terminated, but you do not notice this and continue to use the links from the program.
More information is available on our blog. If you see a wrong click in the list, we recommend that you read the blog article and think about what happened. If you are not sure exactly where the problem is, please contact us. We will be happy to help you.
If you don't see anything in the list of bad clicks, congratulations. All links work as they should and record clicks from visitors to your website.
ID – is a unique click identifier.
Date & time – when the click through occurred.
Program – the program to which you brought a click.
Affiliate manager – AM responsible for this program, who will advise you where you might have an error.
Code – we record status codes for invalid clicks. Message – textual description of the error.
URL - URL of the recorded link, it can detect a syntax error.
IP address - the IP address from which the click occurred.
Referrer URL – the URL from which the click occurred.
Type – whether it is a unique or repeated click.

Reports by periods and by programs
For a detailed analysis of the success of advertising campaigns, it is advisable to view data by time or by specific programs. You can easily find out which e-shops bring you the highest profit, whether you have the highest commissions before Christmas or before Valentine's Day, etc.
Statistics: report by period
Statistics recording the development of promotion success over time. You can easily find out if you have bigger commissions before Christmas or before Valentine's Day, etc.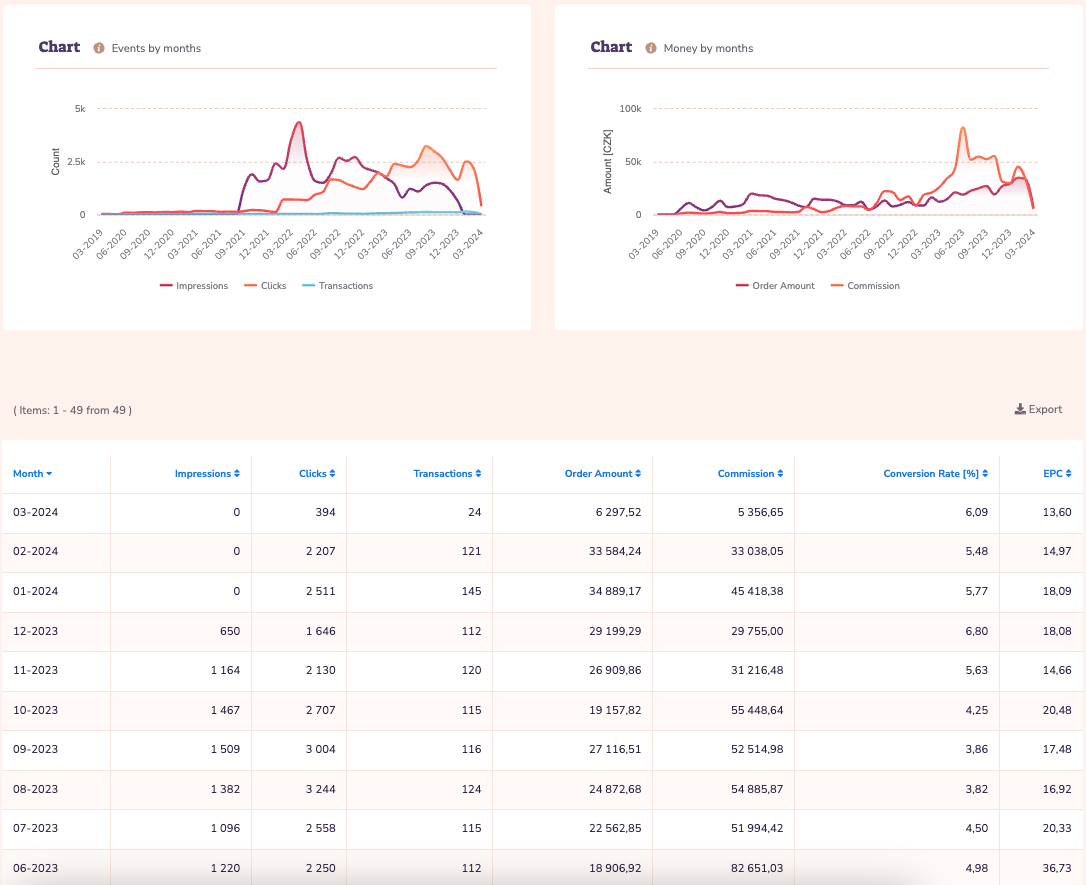 Statistics: report by program
For a detailed analysis of the success of advertising campaigns, it is advisable to view data also according to specific programs. You can easily find out which e-shops bring you the highest profit. Or vice versa, where you advertise a lot and the traffic does not convert.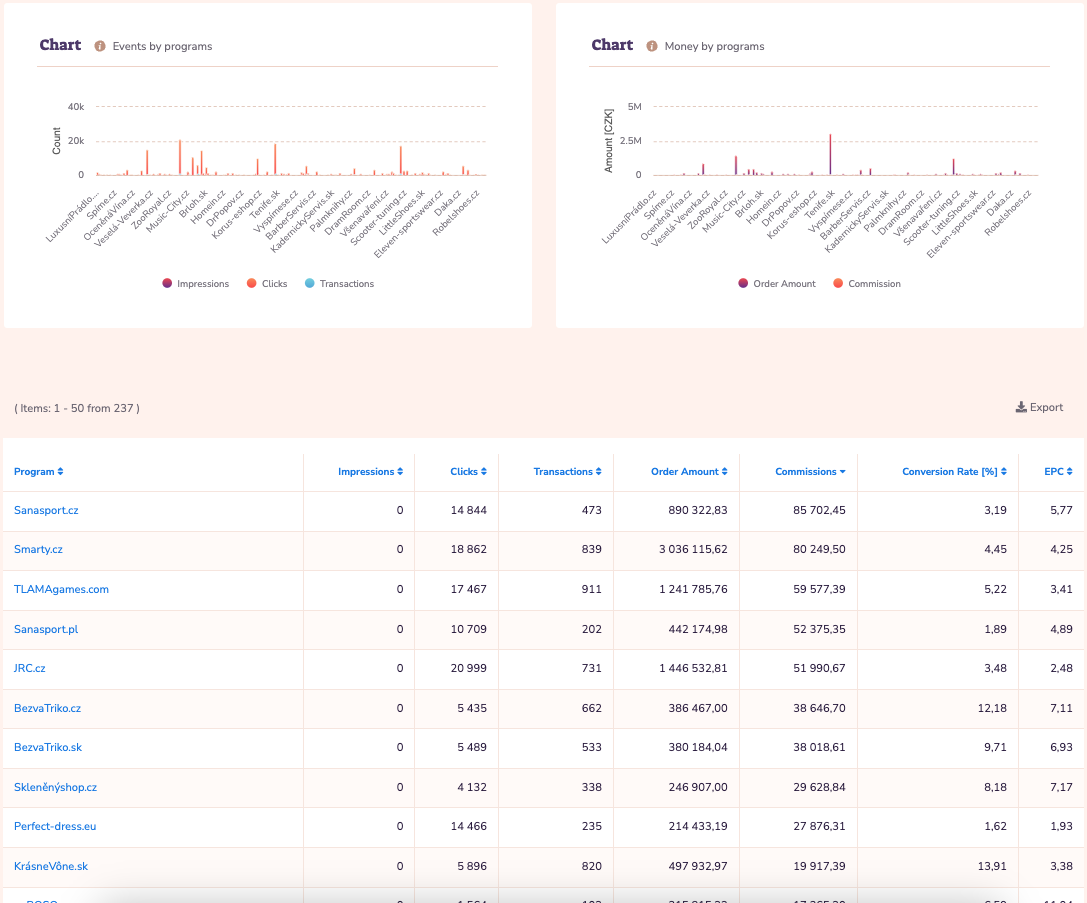 Payouts
Payouts are possible from 500 CZK as standard, this amount is set in the profile. To change it, go to your profile in the tab Payment info. However, a lower amount than CZK 500 is not allowed.
How to request a payout?
You can request a payout simply after logging in to the section Payout. You upload your invoice directly to the system, everything is automatic, you don't send us anything by e-mail.
How the approval works
Before paying the invoice, we check whether everything is in order, whether the number on the invoice matches the commissions you received, whether the money you are requesting is not tied up somewhere. Then the reward is paid to the account indicated in your profile. Please check the correctness of this account before requesting a commission payment to avoid problems later.
Average time to approve transactions
For each advertiser, you can see the time until which they have to decide on the status of the orders, i.e. whether or not you will receive a commission. The information is given in the details of the selected program, you can view it even without signing in –  for example, the average approval time here is 50 days.
In the administration, you will find even more detailed data, such as the average approval time and the approval ratio.

Cooperation type
You can cooperate with us as a company, self-employed, but also as a non-entrepreneur. If you are self-employed or a company, we will pay you a commission against the uploaded invoice in the administration.
We offer invoicing to EU and non-EU countries, for VAT payers and non-VAT payers. For non-entrepreneurs, we recommend the following procedure:
Contact us by email at [email protected] and we will provide you with a special form to use instead of invoices. However, slightly different rules apply to you. The amount of the commission must be between 500 and 10,000 CZK and it is not possible to request payment regularly (e.g. every month). We need to mention, that this option is only for Czech tax residents. Otherwise, you would have to set up a business.
Transaction inquiry
Do you think any transaction was not recorded by the eHUB system? If you have such suspicions, fill out transaction inquiry form. It is necessary to enter as accurate information about the program as possible. We will then contact you and solve the matter together.
We carefully record every request for investigation, so you will also find a history of transaction inquiries in your account. We don't just sweep any problems under the carpet, so don't hesitate to contact us.
Inquiries about unrecorded transactions can be filed using the form. There are several important points to fill in.
Program ID – select which program the inquiry relates to.
Order ID – if you know, also add the order number.
Sale date – the date the order was placed.
Order amount – enter the order amount, ideally without VAT and shipping.
Note – if you want, please add a note for us.
Click-data – fill in the ID of the click that should have led to the order.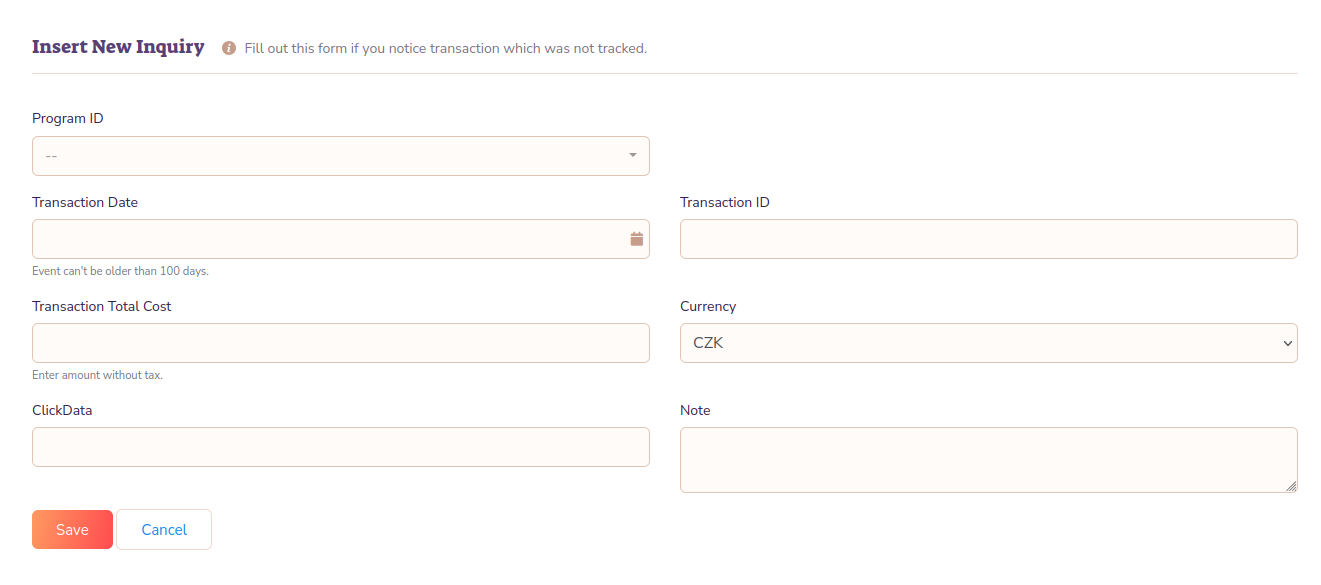 News
We want to be transparent and inform our partners about current events. You can therefore find the news on the main board (Dashboard) immediately after logging in. They are at the bottom of the page. Alternatively, you can also open them in the menu under the tab Messages.

Explanation
In this place, we share with you all changes to conditions and new e-shop offers. If you follow the news, you will learn about new rules, interesting promo sales and coupons in time. This information may also be emailed to you if you enable it in your profile settings.
API
We are proud to have our own software solution, as we can constantly modify it to respond to client requirements.
Description
Our API is inspired by the REST style of architecture, which will especially please tech-savvy users.
Usage examples
For less technically savvy users, we add that the API can be used to obtain information that you can access after logging into your user account. However, sometimes you need to get them in a form suitable for further processing on your website - and that's what API is for.
Documentation
In your profile at API tab you can generate a login key, you will also find there a link to API documentation.
Conversion tracking
The path to higher commissions is fairly straightforward – you need to analyze the data and research which techniques work best for you. This is what conversion tracking is for, i.e. analyzing how much money you got from different programs and types of promotion. What mechanisms are used to track conversions?
Cookie tracking
When a user clicks through your link to an advertiser's website, the advertiser's page saves a cookie - a small file that hides your unique ID - in the user's browser. Based on this file, the site will recognize the advertiser when the user returns to it, for example tomorrow or in a week. The cookie with your ID is still stored in the browser, it is usually stored for 30 days (you can find the specific time specified for each program/condition). Based on this cookie, the advertiser's e-shop or eHUB knows who to pay the commission to - you!
IP (probability) tracking
In addition to cookies, IP address and other browser identifiers, so-called headers, can also be used for tracking. Each device is almost unique in combination of IP address and browser settings (identified through headers). In a certain time window, we can also use this data to determine with 100% accuracy the user who made a purchase after visiting the affiliate link.
Server postback
A postback is a URL enriched with purchase-related parameters (what the customer bought, for what amount, etc.). Through this method, order information is communicated directly between the advertiser's server and the eHUB server, where the order information is further processed and a commission record is created.
Domains
You can record clicks with selected advertisers even without using special affiliate links. In your profile settings, you must enter the registered domains from which you want to promote advertisers.
You enter the domain in the format mojedomena.cz, you also enter a TXT DNS record. The eHUB system will then verify it and start tracking clicks.
At the same time, we must add that it is not a 100% replacement for tracking. We perceive the domain tracking function only as an add-on!

Coupon tracking
We allow you to evaluate not only the affiliate program as a whole, but also more detailed partial information. In addition to mandatory items, advertisers can also add other information, such as the amount of the discount coupon. We consider this additional information important, so you will also see information about the discount coupon in your account.
Mobile App
We started working on the mobile application only in the fall of 2020, so it is not yet perfect, it only has basic functionality and we will improve it in the future. However, we wanted to give customers the chance to conveniently open the eHUB.cz portal from a phone or tablet.
Download
You can download the app for Android on Google Play:
And also for iOS on the AppStore:
Then you just log in with your username and password as you normally log in on a computer.
Benefits
So far, the application can only display an overview, it is not possible to control, set or join new programs. Nevertheless, we think it is useful to our partners. On the go, they can easily see if clicks are increasing, how individual programs are doing, etc.
In case of any questions or remarks don't hesitate to contact us via [email protected]
Affiliate Vocabulary
Click - An action in which a user clicks on your affiliate link on your website and is redirected to the advertiser's website (e-shop).
Commission - Your rewards (percentage or fixed) earned for bringing customers.
Affiliate link - A link containing your unique ID. Via this link, the user clicks through to the e-shop website, your ID is saved in cookies, and thanks to this, the reward for the customer's purchase is credited to your account.
Partner/content creator - That's you. You, our partners, who promote the services and products of advertisers and earn a commission for doing so.
Advertiser - E-shop or company that has its own program.
PPS - Abbreviation of Pay Per Sale, i.e. payment for sales. PPS is the system on which eHUB works. You only earn your commission when the advertiser actually sells something thanks to you.
PPL - Abbreviation of Pay Per Lead, i.e. payment for each prospect who registers on the advertiser's website, downloads a trial version of the software, etc. Payment is therefore not conditional on the customer's purchase.
PPA - Abbreviation of Pay Per Action, i.e. payment for an action, it can be, for example, visiting a page, but also buying a product or subscribing to a newsletter.
Redirecting - After clicking on your affiliate link, the visitor is redirected from your website via eHUB.cz to the advertiser's website.
Tracking - User tracking based on your unique ID. The user gets to the advertiser's website via a link with your ID and is then tracked accordingly. If they buy, the commission goes to you.
Pixel - A pixel is a piece of HTML code that is loaded when a user opens a page. It is this piece of code that does the tracking.